We really enjoy seeing our cattle in the 4-H program. A big thank you to Laura Knott and her family from the Fort Saskatchewan 4-H Beef Club for purchasing several steers and Red Poplar Grove Ms. Star 24X from us. She has done an excellent job with them!! And a big Thank you to Blake Rolseth for purchasing his steer from us and doing a great job!!
---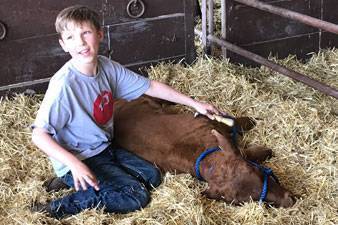 "Peanut " was a premature twin who needed a lot of help to learn how to suck on his own and Maverick was a little boy who needed a baby calf for his Clever Project in 4-H. After some organizing Peanut and Maverick met and became a great team!! What a super job Maverick did at his Falun East 4-H Beef Club Achievement Day!! Picture say it all - one happy boy and one very content calf !!
---

Laura Knott with DJE 41X daughter and Lauron Amos 11A bull calf at side.
Watch for this styish bull calf in the pen this fall!!